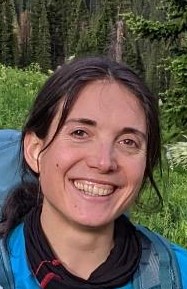 Please join us in welcoming Dr. Evoléne Premillieu to the team!
Dr. Evoléne Premillieu is the Light Sheet Specialist in the newly established Beckman Center for Advanced Light Sheet Microscopy and Data Science. She comes to us with significant experience in optics and programming, having received her PhD from the lab of Prof. Rafael Piestun (ECEE). After a year in industry pursuing multi-color super resolution imaging, she has returned to academia to help us with our mission to advance biological discovery.
Within the Beckman Center, Evoléne will oversee the integration of a new Bruker TruLive3D light sheet microscope to image organoids and tissues. The new microscope is due to be installed in June. Evoléne will also construct a single objective light sheet for subcellular imaging (planned to be operational Summer 2023), as well as supporting the image acquisition and analysis needs of our light sheet users.
While initially supporting the needs of specific research projects, the light sheet microscopes within the Beckman Center will eventually be made accessible to the broader community, providing novel imaging capabilities that cannot be found elsewhere within our region. These will create research opportunities that are currently not possible, opening up new avenues of discovery and collaboration. If you are interested in learning more about the new microscopes, please contact us!